By Mark Maglin
Vice President, Cybersecurity
Introducing the Advanced Cyber Threat Defense (ACTD) platform delivering next-gen comprehensive endpoint security today
Enterprise organizations are challenged to plan, build, and maintain a cybersecurity strategy and solution to defend against today's threats. They need their cyber strategy to account for the ever-changing landscape and allow for the growth and innovation necessary to address the unknowns of tomorrow's cyber threats without limiting user and mission needs. Organizations need this solution today, and they need it to be cost-efficient, flexible, and agile. I often find myself speaking to organizations facing the same challenges, trying to work through the problem with different vendors, investing money in hardware and software products that solve a singular problem; they don't necessarily communicate with each other, and in fact may be obsolete before the new technology is deployed and optimized.
I am here to tell you there is a better strategy, one that meets enterprise requirements and is globally operating today, protecting some of our nation's most sensitive organizations. ECS, with McAfee and select OEM Partners, has developed and implemented the Advanced Cyber Threat Defense (ACTD) platform to provide endpoint security, visibility, remediation, orchestration, and management capabilities as a managed service. As the solution is outcome, not technology driven, our customers benefit from an agile approach to endpoint security and continuous innovation of capabilities and services. Additionally, leveraging our decades of experience with government agencies, we've ensured the ACTD platform delivers all of the endpoint security and management capabilities desired by the US Department of Defense, Federal Government, and large commercial enterprises:
Visibility (enterprise view to individual assets in real-time)
Signatureless detection powered by artificial intelligence and machine learning (ML)
Fully-integrated threat intelligence platform (TIP) fostering automation
Real-time and cross-platform sharing of indicators of compromise (IOC)
Advanced malware sandboxing and analysis
Endpoint detection and response (EDR)
Application containment and whitelisting
Data loss prevention (DLP) for mitigating insider threats
DoD scorecard and hygiene reports that are automated and drillable
Advantages of the ACTD platform include:
Real-time visibility of assets
Zero-day detection using artificial intelligence, machine learning, and sandboxing
Endpoint detection and response for instantaneous remediation of one or all hosts
Threat intelligence platform allowing inter-service and inter-agency indicator sharing
Open, extensible architecture mitigating vendor-lock
Outcome-based key performance indicators and contractual service level agreements
Benefits of ACTD delivered as a managed service:
Contractor-owned/operated hardware and software
24/7/365 Tier 2 and 3 support
Analyst/DCO training
All operations and maintenance
Continuous innovation
Delivering complete endpoint security, TODAY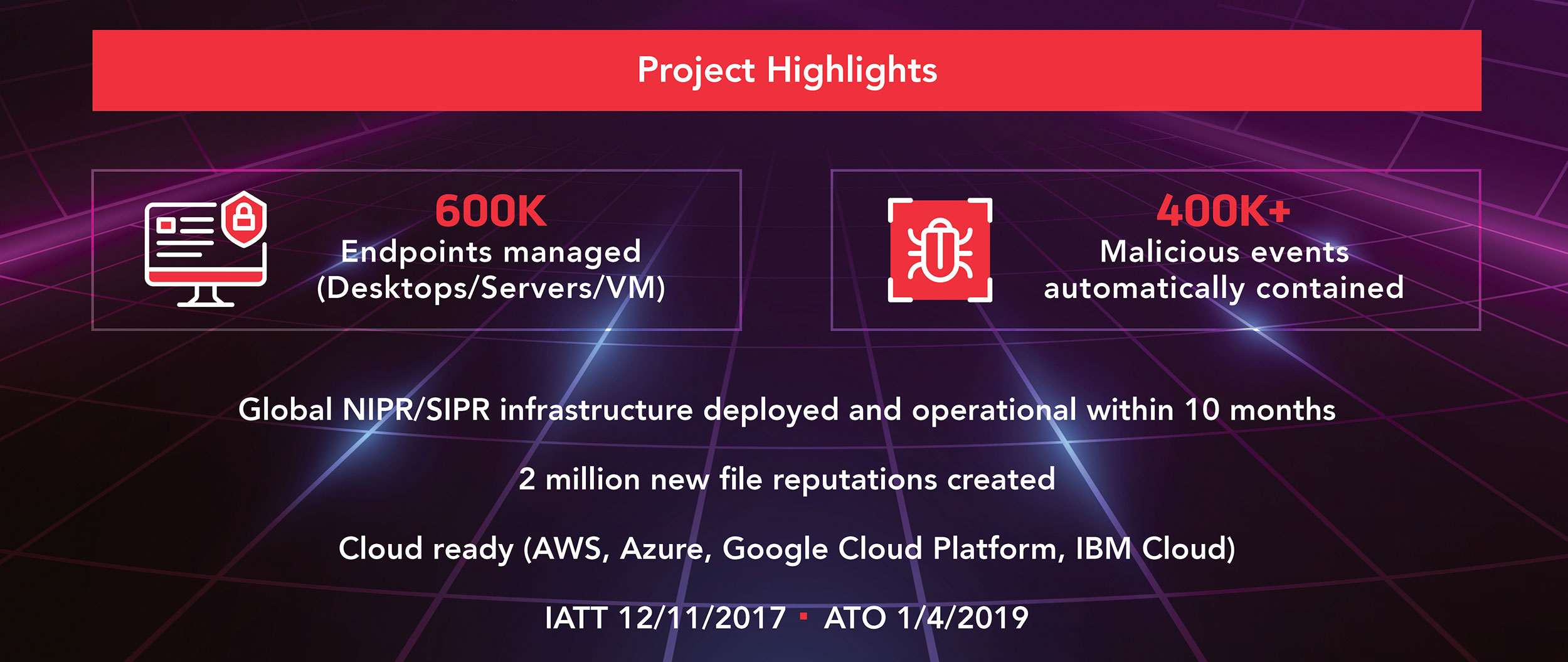 In partnership with U.S. Army Cyber Command (ARCYBER), ECS delivers, operates, and maintains all facets of the Army Endpoint Security System (AESS). The AESS solution is built on the ACTD platform and is operated 24/7/365 as a turn-key managed service inclusive of risk management framework (RMF), service desk, engineering, analysis, infrastructure, and project management. As the single service provider for AESS, we are able to deliver outcomes to a set of clearly defined contractual service level agreements (SLAs) and key performance indicators (KPIs).
To date, AESS is the only deployed cybersecurity solution to offer all endpoint security and management capabilities desired by Joint Forces HQ DoDIN/DISA. Delivered as a managed service on the ACTD platform, AESS is a turnkey solution that includes all hardware, software, maintenance, and operations.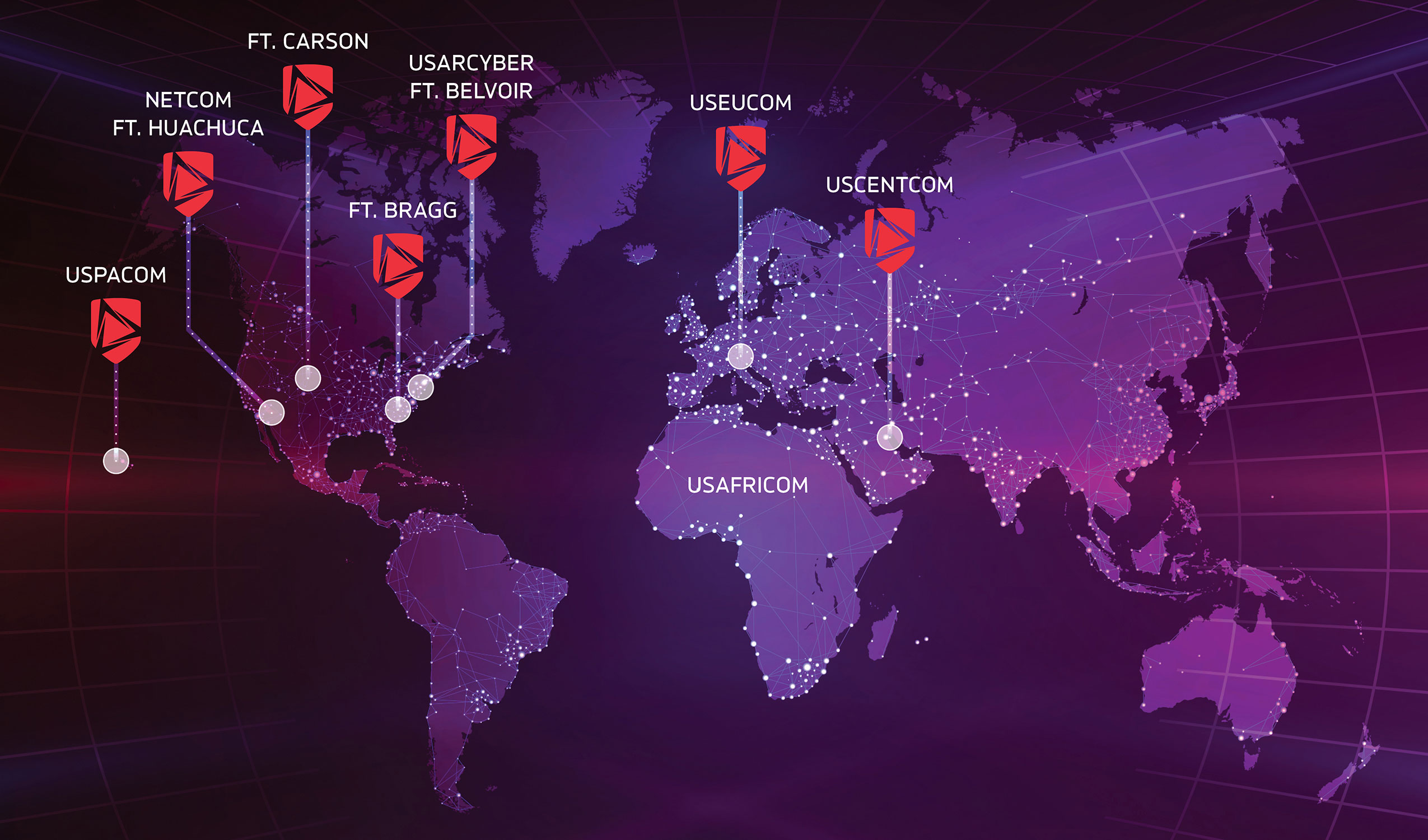 Operating worldwide today on NIPRnet and SIPRnet, the Army Endpoint Security System (AESS) provides Regional Cybersecurity Centers with the most advanced tools and discovery capabilities for comprehensive cybersecurity protection, detection, and remediation.
The ACTD platform has also been adopted by:
Defense Logistics Agency (DLA)
Joint Special Ops Command (JSOC)
U.S. Air Forces Central Command (AFCENT)
Missile Defense Agency (MDA)
U.S. Central Command (CENTCOM)
Continued innovation and excellence
ECS also continues to innovate cybersecurity solutions through the ECS Cyber Center of Excellence, fostering collaboration, innovation, research, and development. The center allows us to consistently improve the speed and accuracy of all our cybersecurity systems, further broadening our capabilities to our clients.
For more detailed information, reach out to an ECS cybersecurity expert.