At ECS, we understand what happens when people come together for a shared goal: communities grow stronger and lives are changed. As individuals, ECS employees are givers. We've seen a surge in involvement in our philanthropy programs and an enthusiasm about giving back. Our ongoing philanthropy initiatives, ECS Cares and ECS Engage, give employees a chance to come together in support of one vision: helping others. In 2019, employees spearheaded giving campaigns in ECS offices across the country and supported companywide efforts. Last year, three campaigns united ECS employees: our spring blood drive, The Joy of Sox campaign, and Marine Toys for Tots.
Company support for giving
ECS Cares identifies charitable organizations to support throughout the year. Each quarter, we create a campaign to support a charity or national cause. We provide each ECS office with communication tools, directions, and a schedule. By collectively supporting one cause at a time, we create a powerful wave of positivity while nurturing a strong company culture.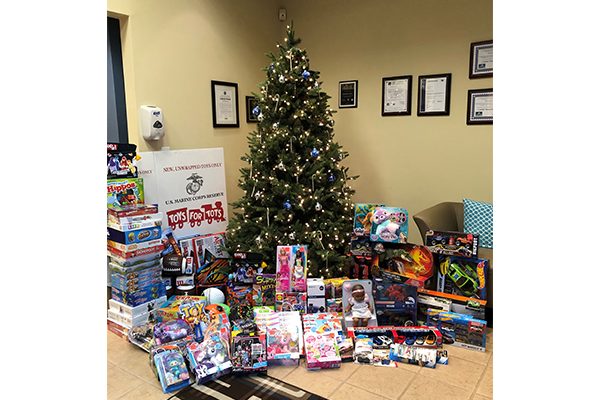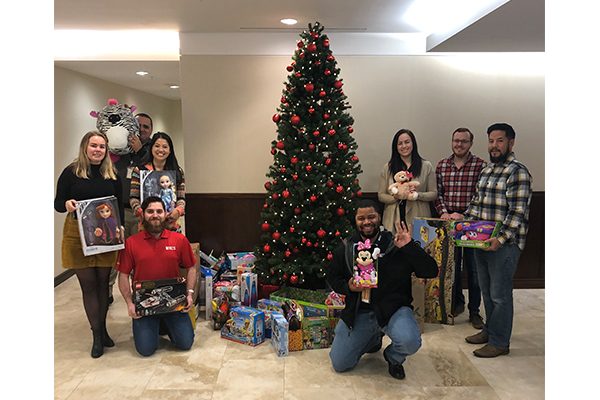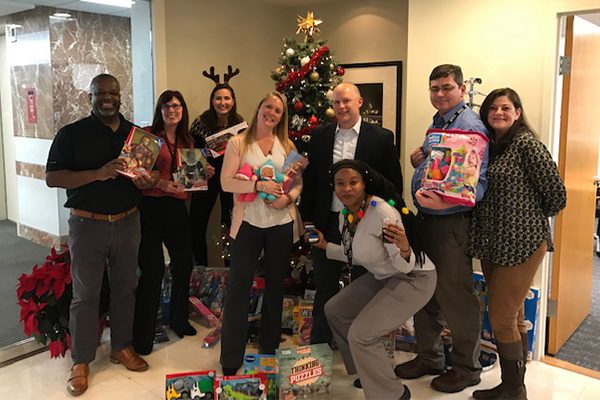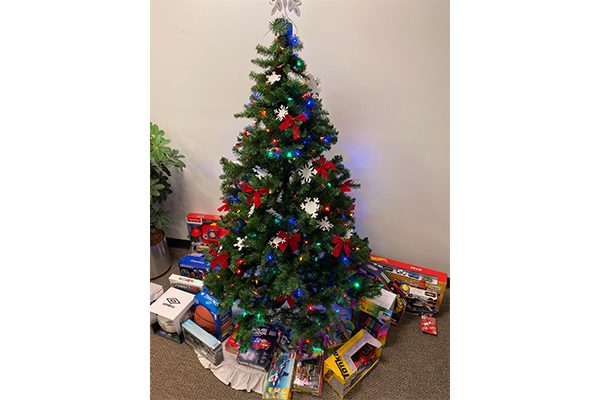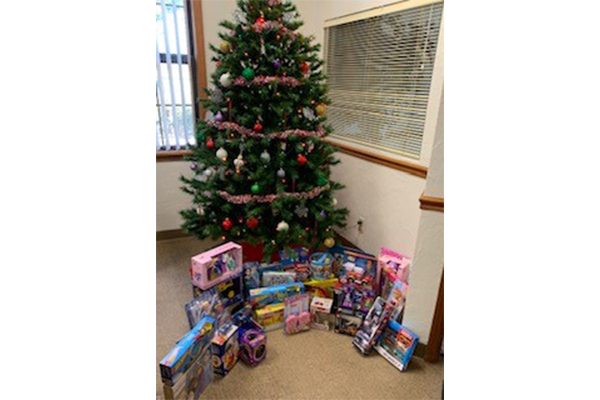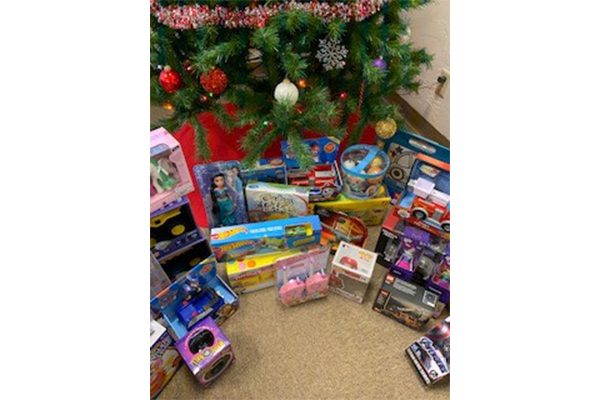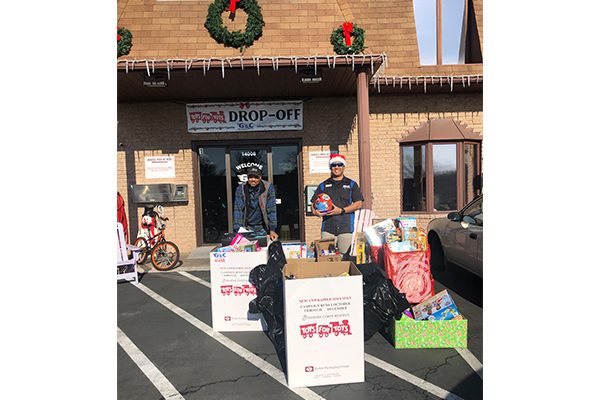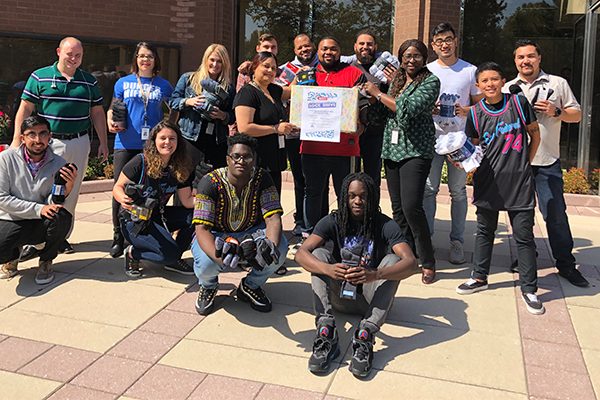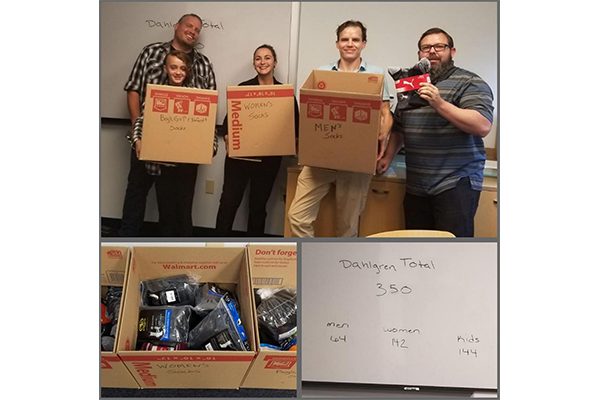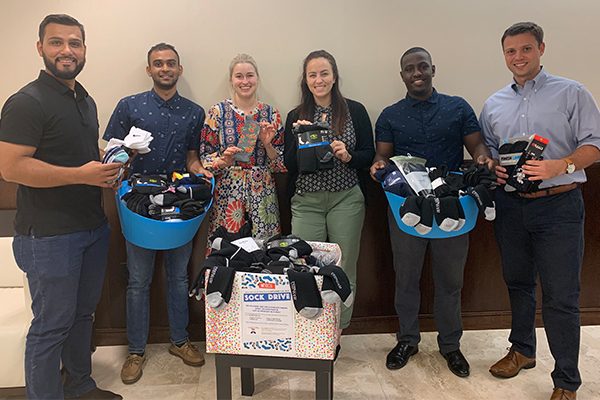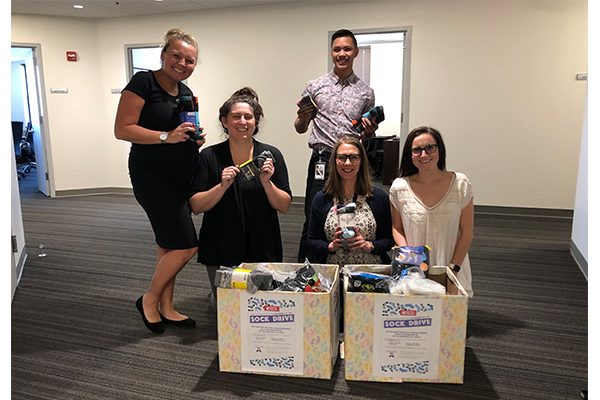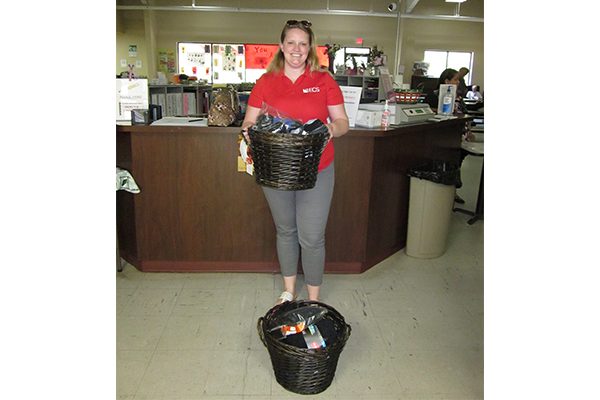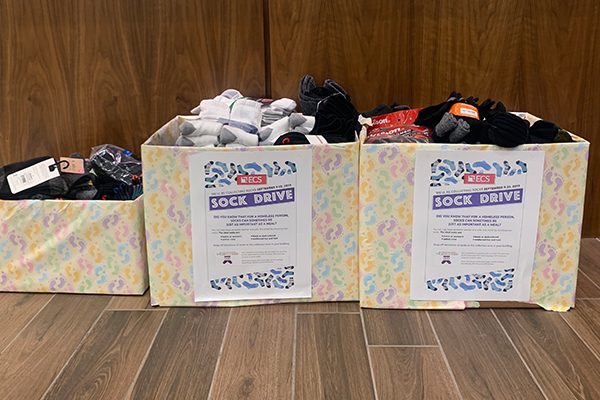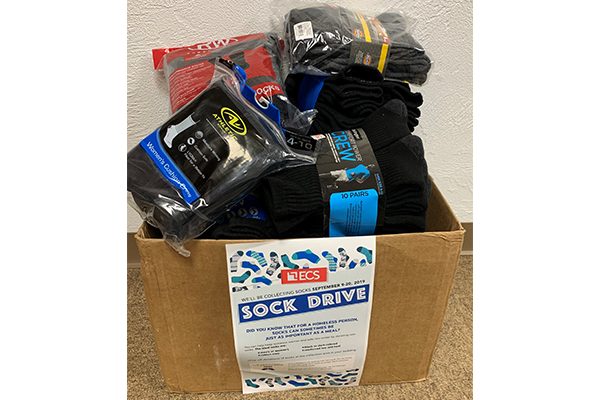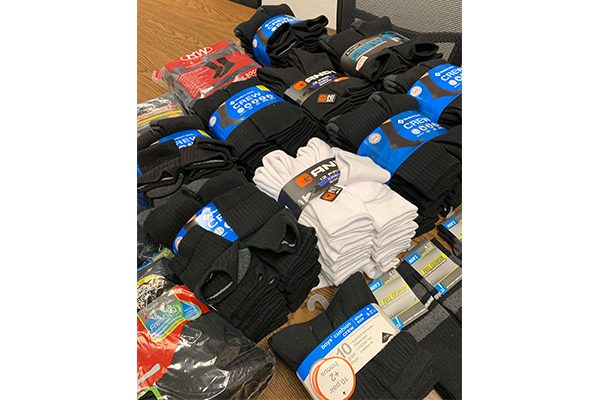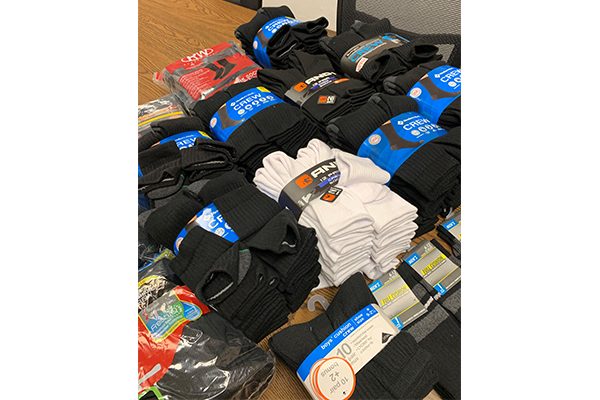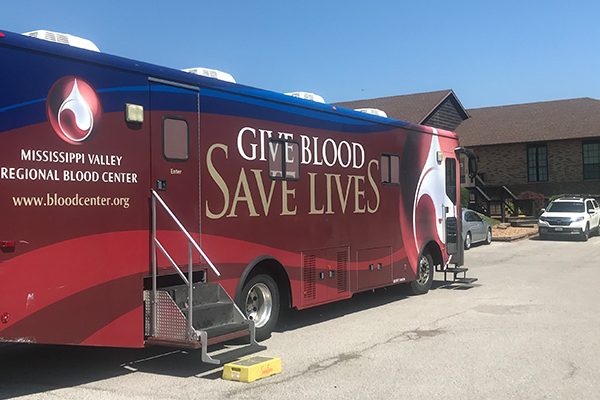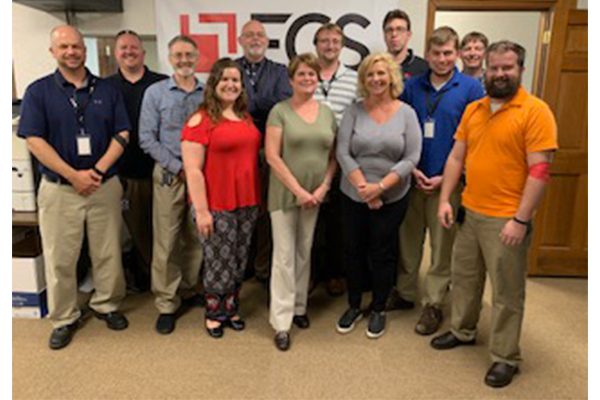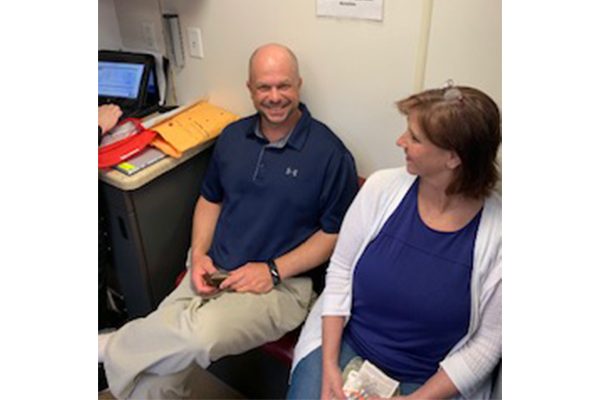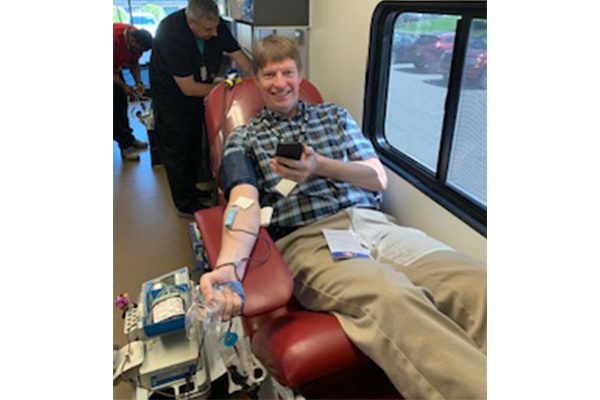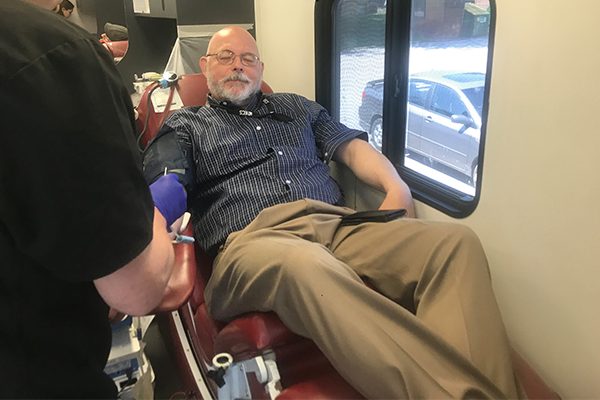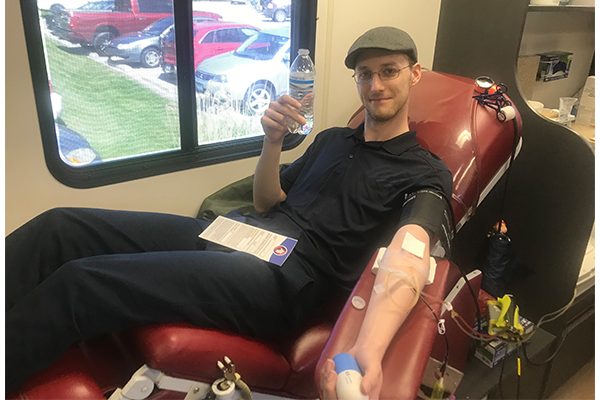 Spring Blood Drive
According to the American Red Cross, blood donors help people of all ages, from accident and burn victims to heart surgery, organ transplant, and cancer patients. Every two seconds, someone in the U.S. needs blood. During the ECS Cares blood drive last spring, ECS employees donated 74 pints of blood to local blood banks. Herb Wesselman, a program manager for the GATES project in O'Fallon, Illinois, helped organize co-workers for his office blood drive to benefit the Mississippi Valley Regional Blood Center (MVRBC).

"As a retired military officer, I appreciate the ability to continue to serve the nation as part of a company that is dedicated to protecting our freedom, as well as giving back to the communities in which we live.

HERB WESSELMAN
Autumn Sock Campaign
During the winter months, clean, warm socks can make a difference for children and families experiencing homelessness. The Joy of Sox organization mobilizes donors across the country to connect with homeless shelters in their communities to donate new socks to those who need them most. Across the company, ECS staffers donated more than 1,500 pairs of socks and $1800 in funds to area homeless shelters. Rebecca Cuffage, a deputy program manager of mission systems in Dahlgren, Virginia, teamed up with her coworkers to collect and donate more than 350 pairs of socks in their location alone.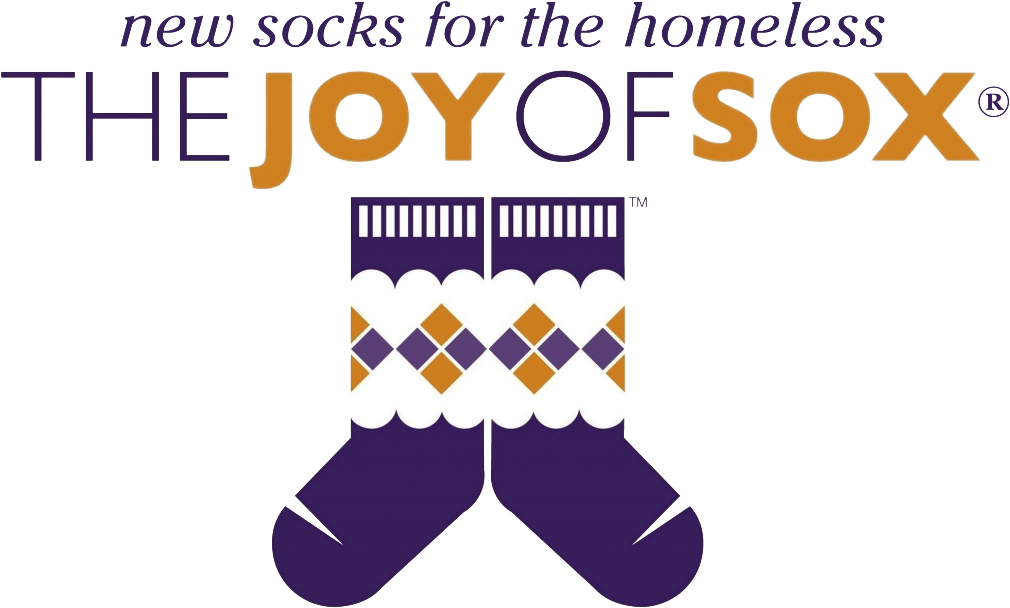 "When one of our team members asked if we could get involved, because they too had been homeless as a child, I understood the impact this effort could make. We learned that shelters often have socks for adults, but rarely enough for the children. I could not be prouder of our team—who made sure there were more socks for kids—and ECS for promoting the campaign.

REBECCA CUFFAGE
Toys for Tots
Our final ECS Cares campaign of 2019 was a holiday toy drive to collect donations for Marine Toys for Tots. ECS employees brought gifts to eight drop-off locations across the company, as well as to ECS holiday parties and happy hours. Together, we donated new toys, games, and funds to children in need, making the holidays a little brighter for kids and families in our local community. ECS director Beth Missar took part in the year-end drive.

"ECS Cares has become an important part of who we are as a company. It's a great feeling to know that we can connect with coworkers and colleagues to take part in activities that really make a difference for those around us.

BETH MISSAR
Looking forward: Giving in 2020
There's so much we can accomplish when we work together. Ready to be a giver in 2020? Stay tuned for news on upcoming ECS Cares campaigns. Together, we'll build an even stronger band of volunteers and donors, showing up for our local communities in meaningful ways.
Learn more about ECS' culture of caring at ecstech.com/about/our-culture.