It was a beautiful day in North Charleston, South Carolina, but tensions were running high at the Palmetto Cyber Defense Competiton (PCDC). PCDC Airlines, the fictitious airline at the heart of this year's challenge, was under attack! Teams of cybersecurity professionals were competing to defend the airline's network from a barrage of threats and keep it up and running.
Phishing attacks, DDoS attacks, and even physical intrusions plagued the networks. Help desk tickets, check-in support, and admin requests demanded immediate attention. Each team worked tirelessly to defend the network and keep flights running smoothly, but only one team could emerge victorious.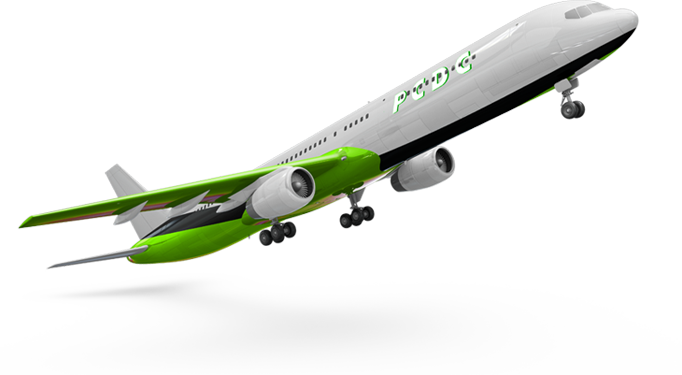 ECS Takes Home The Hardware!
CAPT Nicole K. Nigro, USN, the commanding officer at Naval Information Warfare Center (NIWC) Atlantic presents the first-place trophy to ECSers Trey Everette, James Dieteman, Luke Gigiano, James Steff, Sean Dunaway, and Carlos Bermudez. The team included Nic Steidl and Don Brewer, college juniors who joined the ECS team after competing in their earlier collegiate bracket. The competition is a great opportunity for high school and college students to gain experience, mentorship, and insight from cybersecurity professionals!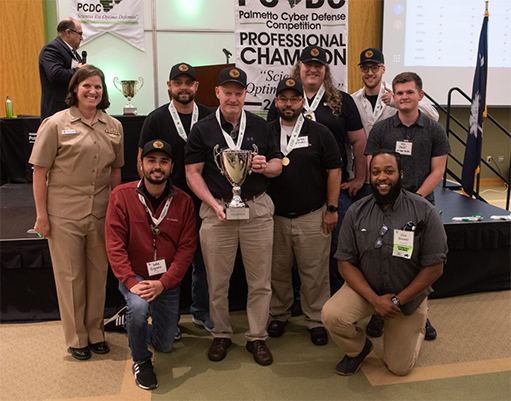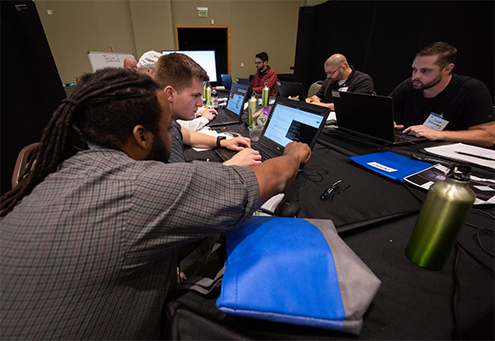 Don Brewer and Nic Steidl pore over a problem across from Sean Dunaway, project manager at ECS. "I had so much fun competing and contributing to the ECS team," remarked Don Brewer. "I learned a lot from [the team's] skill and graceful execution."
PCDC: A Test in Real-world Scenarios
PCDC is an annual cyber competition sponsored by NIWC and the Armed Forces Communications & Electronics Association (AFCEA) where high school and college students, as well as IT professionals, test their skills and mettle against real-world scenarios. This year's event featured tough competition with BAE, Dominion Energy, ECS, GDIT, SAIC, and SRC all competing. 
"Competing in PCDC is a great opportunity to measure yourself against other professionals and connect with the next generation of students coming into the field. Team members are already asking about next year. We have a title to defend!"
TREY

EVERETTE


Program Manager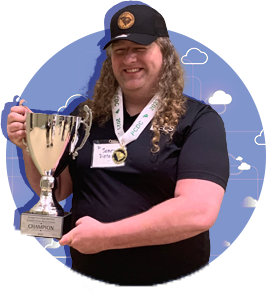 "Winning PCDC is a glowing endorsement of the strong SOC fundamentals we have at ECS. The organizers specifically called out the quality, consistency, and thoroughness of our incident reports as one of the things their Gold Team noticed."
JAMES

DIETEMAN


Director, Cyber Analytics Products
TREY

EVERETTE


Program Manager
JAMES

STEFF


Cyber Threat Analyst
JAMES

DIETMAN


Director, Cyber Analytics Products
SEAN

DUNAWAY


Project Manager
LUKE

GIGIANO


Cyber Threat Analyst
CARLOS

BERMUDEZ


Systems Engineer
We couldn't be prouder of our team's hard work and dedication. They represent the best and brightest in the field of cybersecurity, and we are honored to have them at ECS. Congratulations to all the teams who participated and made this year's competition a success!
To be the best, you have to compete with the best.