Company will expand analytics offerings through Analytics Center of Excellence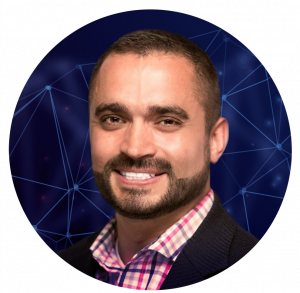 FAIRFAX, Va. – October 20, 2020 – ECS, a leader in advanced technology, science, and engineering solutions, announced that Aaron Burciaga has been named senior director of artificial intelligence (AI) and analytics. In this role, Burciaga will work closely with ECS's national security and intelligence division in the development of AI and machine learning (ML) solutions. Mr. Burciaga will also develop an Analytics Center of Excellence akin to the Cloud and Cyber Centers of Excellence.
Mr. Burciaga is a seasoned business leader in both startup and enterprise settings, with an extensive background in automation, data science, AI, and ML. He joins ECS from HCL Technologies, where he was the global operations director for analytics and artificial intelligence. A veteran of the Iraq War, Mr. Burciaga served as an officer in the United States Marine Corps (USMC). As a reservist, he served through 2019 as the lead data technologist at USMC headquarters, assisting the service's chief information officer.
"Aaron brings two decades worth of experience leading AI, ML, and analytics teams," said ECS president George Wilson. "His insights and expertise will be integral to ECS as we continue to define, develop, and maintain world-class analytics and AI capabilities."
"I'm excited to join a company committed to leveraging the latest AI and ML technology towards national security and prosperity," said Mr. Burciaga. "In doing so, ECS continues to define the industry's best practices. Our solutions transform how commercial and federal clients collect, analyze, and ultimately make better decisions using data."
Mr. Burciaga has a Master of Science in Operations Research from the Naval Postgraduate School and a Bachelor of Science from the U.S. Naval Academy.
About ECS
ECS, a segment of ASGN, delivers advanced solutions in cloud, cybersecurity, artificial intelligence (AI), machine learning (ML), application and IT modernization, science, and engineering. The company solves critical, complex challenges for customers across the U.S. public sector, defense, intelligence, and commercial industries. ECS maintains partnerships with leading cloud, cybersecurity, and AI/ML providers and holds specialized certifications in their technologies. Headquartered in Fairfax, Virginia, ECS has more than 3,000 employees throughout the United States. For more information, visit ECStech.com.
About ASGN
ASGN Incorporated (NYSE: ASGN) is one of the foremost providers of IT and professional services in the technology, digital, creative, healthcare technology, engineering, life sciences, and government sectors. ASGN and its divisions are viewed as best in class across multiple industries and have built an outstanding reputation for excellence over the past 33 years. ASGN is based in Calabasas, California, with multiple offices throughout the United States, Canada, and Europe. To learn more, visit asgn.com.
Contact
Shab Nassirpour, Vice President of Marketing
703-270-1540
Shab.Nassirpour@ECStech.com