At ECS, we benefit every day from the invaluable experience and unique skills of our military veteran employees, who constitute more than 26% of our workforce. With the support of our robust training and education programs, veterans develop successful careers in cyber, cloud, engineering, data science, and artificial intelligence. And, we give them the opportunity to continue the mission by partnering with the Department of Defense (DoD) and civilian defense and intelligence agencies. 
In honor of National Military Appreciation Month, we spoke with several veteran employees at ECS to learn how their active-duty service helped prepare them for success in their civilian careers. 
of our employees have
served in the armed forces
Garrett Funk
U.S. Marine Corps,
Signals Intelligence
"In my five years of service, the Marine Corps prepared me for success at ECS by instilling a strong sense of pride in my work, attention to detail, and being able to thrive in an ever-evolving environment. The technical training I received, coupled with the exposure to dozens of DoD intelligence systems on deployment, gave me the necessary experience to thrive. I love being able to make a difference for the marine on the ground or at sea!"
Nancy Sison
U.S. Army, Logistics,
Operations, Program Budget
"I had a variety of experiences during my Army career, but the common throughline and the skill that stuck with me in post-Army life is project management. So much of the tasks I handle in my day-to-day at ECS, as well as the processes we follow, are rooted in the same project management principles I first learned while active duty."
James Ritchie
U.S. Army,
Airborne Infantry
Signals Intelligence
"My time in the military helped me learn how to focus and engage in times of hardship and stress. It provided me with a solid mindset that has helped me perform my duties at ECS and has driven my desire to grow within the company."
"Of the many things the military teaches to prepare you for success, an under-appreciated one is embracing failure. Many people struggle with this, and those who do not embrace their failures and learn valuable lessons from them tend to repeat those failures."
Michael Perkins
U.S. Air Force,
Aviation Maintenance
U.S. Navy,
Intelligence/Operations
"As a red team operator, I had exposure and hours of hands-on experience on multiple Linux flavors and platforms. That experience transitioned well into my current role managing, fielding, and maintaining Linux-based operating systems."
"One lesson I took from my military career into my ECS career is you should always strive to understand how your role contributes to the larger mission context. During my formative years as surface warfare officer, I stood watch as officer of the deck underway on a destroyer and engineering officer of the watch on a battleship. These were complex, high-risk, "system-of-systems-of-systems" operational environments, where everything is interconnected and every action produces important ripple effects."
"I think I am most grateful to the Army for reenforcing my core values: loyalty, duty, respect, selfless service, honor, integrity, and most important, personal courage. Personal courage allows me to stand up for what I believe is right and to be fearless when making decisions."
U.S. Air Force,
Logistics/Planning
"Proper prior planning prevents poor performance. The military instilled in me a work ethic and the idea that the more prepared you are for a task, the better you will perform. A few closely related aspects are refusing to take "no" for an answer and figuring out a way to "yes," as well as never stopping the work until the task is finished."
ECS does work that matters around the world and our veteran employees

have the opportunity to

continue the mission even after their military service comes to an end.
JOIN US!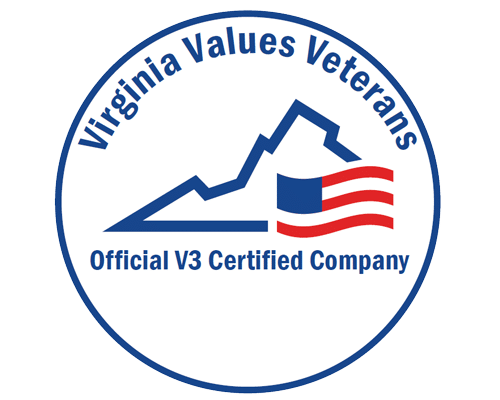 PROUDLY V3 CERTIFIED
ECS is a Virginia Values Veterans (V3) certified organization. We are committed to recruiting, hiring, and retaining veterans for the value they bring to the workforce. Virginia has the fastest growing veteran workforce in the country, and we are now trained on best practices for recruiting and hiring transitioning military members.
LEARN MORE