On July 12, 2019, the Department of Defense (DoD) released its Digital Modernization Strategy, a four-year roadmap to improve DoD's cyber posture through four pillars of technological innovation: cloud; artificial intelligence (AI); command, control, and communications (C3); and cybersecurity. Likewise, many organizations across the military, federal civilian, and commercial markets are adopting digital modernization and digital transformation plans. While "digital modernization" and "digital transformation" have become buzzwords and are often used interchangeably, the difference between these concepts has crystalized over the last few years. Each strategy incorporates different approaches and seeks to achieve different outcomes.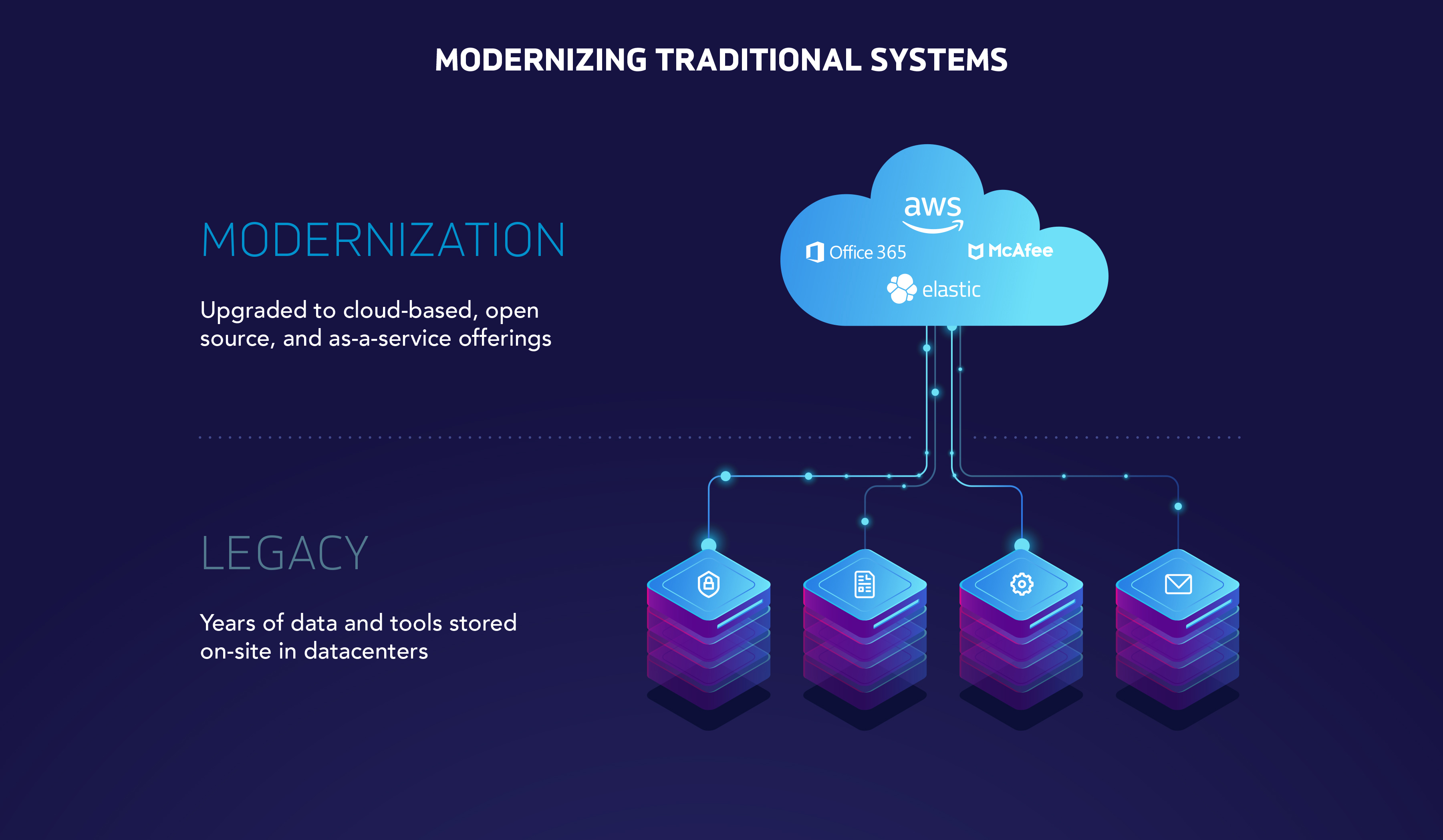 Digital Modernization
Digital modernization is the process of upgrading or adopting new business-enabling technologies (e.g. cloud services, email and collaboration platforms, and critical systems such as enterprise resource planning (ERP), logistics, and human resources) in order to improve existing processes, achieve new efficiencies, and reduce costs. Digital modernization often centers on infrastructure and operations, with a particular "digital" focus on a more engaging front-end user interface (UI) and user experience (UX).
Government agencies moving from legacy systems to platforms such as Microsoft Office 365, Google Cloud, and other as-a-service offerings are common examples of digital modernization, as are companies that apply new visualization tools—such as those in the Elastic Stack suite of open-source search, analysis, and visualization products—to attain new insights from existing systems.
ECS has worked with a wide range of customers from large enterprises to global education organizations to implement digital modernization strategies. These solutions include consolidating data centers, helping government agencies adopt new digital platforms, and migrating companies and organizations to cloud-based environments. All of these projects serve to increase these organizations' capacities, flexibility, stability, and long-term cost-effectiveness. ECS has also moved organizations, including a global restaurant chain and a major defense customer, to platform-as-a-service (PaaS) cybersecurity solutions that cost-effectively improved the protection of their information assets from internal and external threats.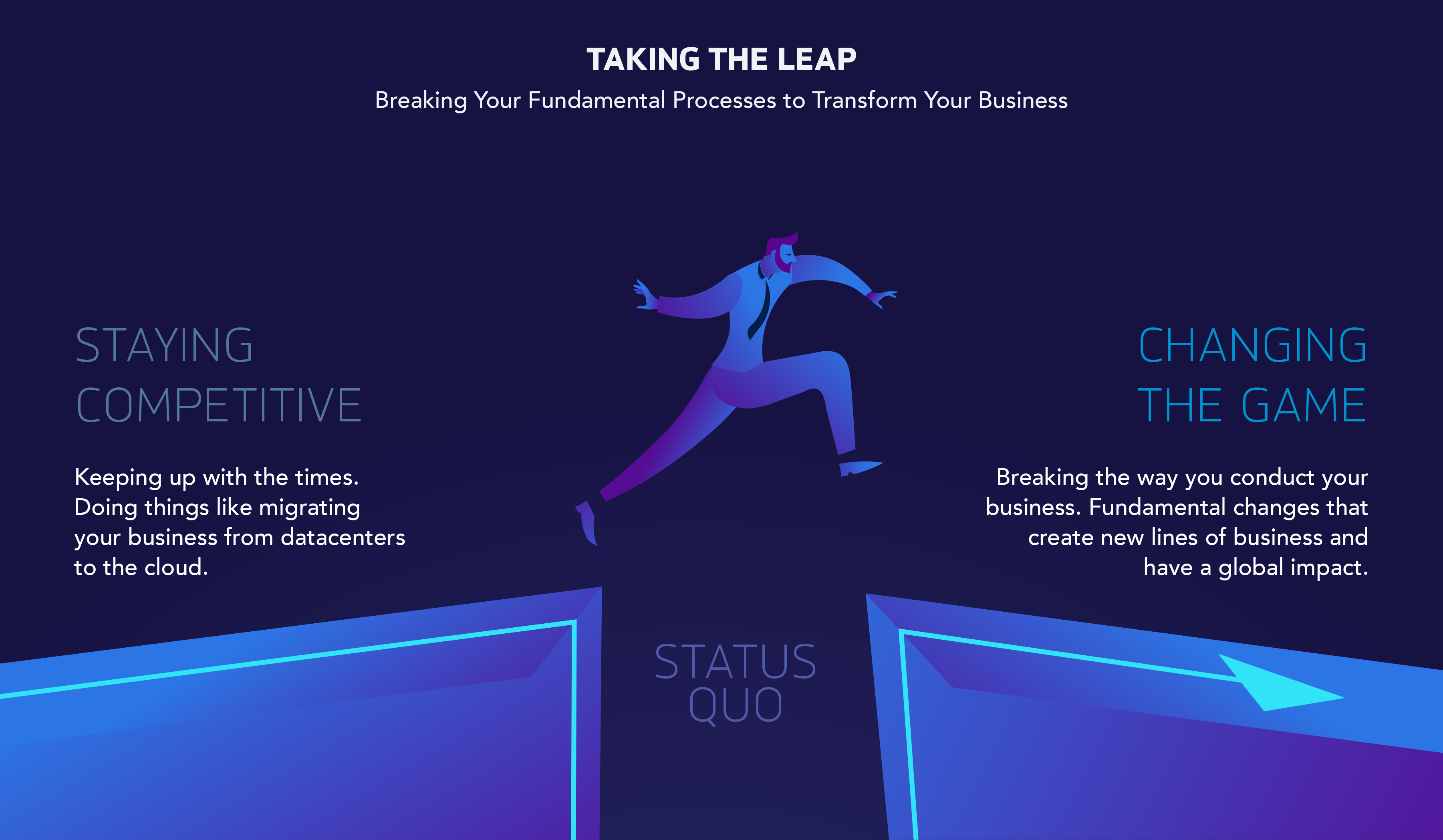 Digital Transformation
Digital transformation is the holistic adoption of change across people, processes, and technology—a rapid, high-impact revamp of the way in which an organization operates, supports its customers, and creates new business opportunities. If digital modernization charts a steady march, digital transformation is a leap forward. Using advanced technologies to pursue new capabilities and open untapped lines of business is digital transformation. Using cutting-edge AI, biometric screening, or drone technology (or all three) to re-engineer the way a government agency safeguards the American public—these are digital transformation strategies. Whether improving airport security without increasing wait times, reducing delays in imports reaching consumers, or detecting unsafe food before it can cause widespread illness, these strategies leverage new technologies to enhance and evolve the critical services on which American citizens rely.
When a government agency sought to generate new revenue streams through the use of blockchain, cloud, data analytics and new digital identity technologies, ECS designed a digital transformation roadmap to achieve these ends. In the same vein, ECS helps health and human service agencies to transform their procurement strategies by using cloud, AI, and blockchain technology, thereby facilitating smarter, better-informed purchase decisions. Working with emergency response agencies, ECS applied AI and machine vision capabilities to drone video imagery, dramatically increasing their ability to identify and quickly respond to crisis situations. These solutions represent only a piece of the larger digital transformation strategies that empower organizations to not only improve existing services, but also build capabilities that attract and engage new customers.
Which is Right for You?
If your organization wants to do things better, cheaper, and faster—by reducing headcount, perhaps, or moving away from costly legacy systems—digital modernization is likely the most appropriate strategy to undertake. If your organization wants to achieve immediate change and global impact, disruption of the status quo, or to create entirely new lines of business, you seek digital transformation.
Whatever your organization's needs, ECS stands ready to help achieve these goals through our proven, tested methodologies and expertise in the core technologies that are enabling both digital modernization and digital transformation for our customers today.